Journey Film Premieres in Manila to Benefit Typhoon Victims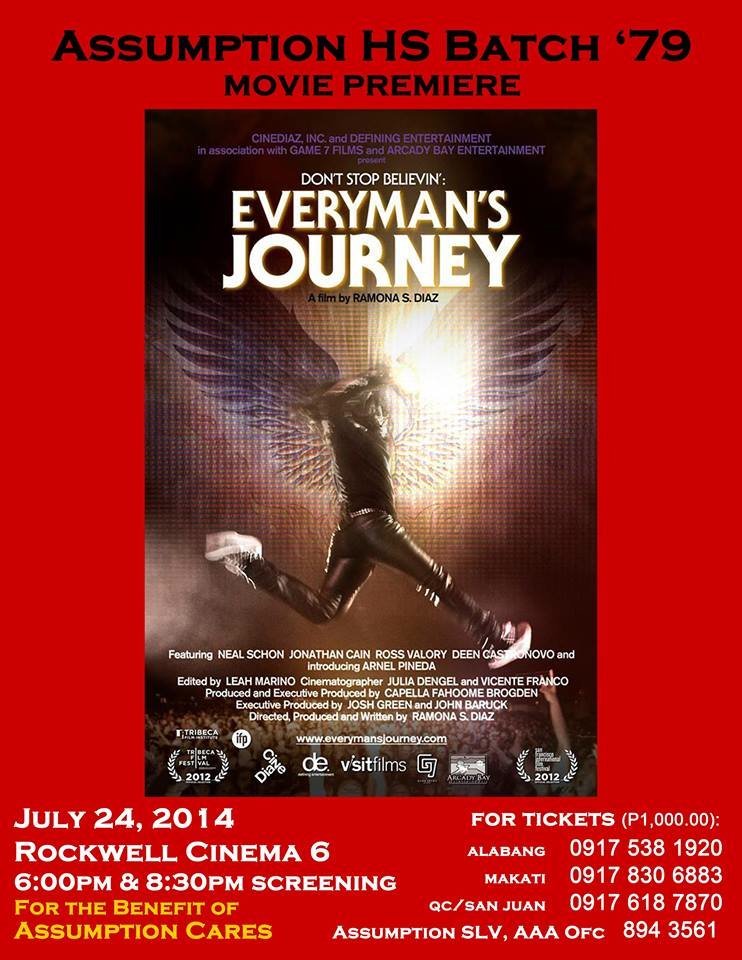 The highly anticipated screening of the documentary Don't Stop Believin': Everyman's Journey will finally happen where it all began: Philippines.
Arnel Pineda's fairy tale chronicles his rise from ambiguity to the world stage following Journey founder Neal Schon's unconventional search for a lead singer. The critically-acclaimed film is punctuated with various clips from concerts including the band's epic Live in Manila which only the big screen can duly demonstrate. The screenings will benefit victims of Typhoon Haiyan (Yolanda) with the facilitation of Assumption Alumnae Association's Assumption Cares.
Details:
Date: Thursday, July 24, 2014
Screenings: 6:00pm and 8:30pm
Location: Rockwell Cinema 6, Makati
Ticket / Donation: ₱1000 ($23)
For Tickets Call: 09175381920 | 09178306883 | 09176187870
Or call the Assumption SLV, AAA Office: 894 3561
Director Ramona Diaz will host a Q&A after both screenings. Surprise guests also plan to attend. Stay tuned for more particulars and share the news about this unique engagement!
Awards:
Michael Moore's Traverse City Film Festival Audience Award
Palm Springs International Film Festival Audience Award
Official Selection of the Tribeca Film Festival